Fading screenwriter Colin is not long in Sydney before he's seduced by its obsession with success. Teaming up with well-connected hack writer Mike, Colin finds himself in a tug of war between artistic ambition and big bucks. Fame and fortune – not to mention Mike's criminally hot girlfriend – are up for grabs.
Play Trailer
AUSTRALIAN NATIONAL THEATRE LIVE IN PARTNERSHIP WITH GRIFFIN THEATRE COMPANY PRESENTS
David Williamson's Emerald City
Part love letter, part hate mail to the harbour city, Emerald City is one of the best works by Australian theatre's most beloved craftsman and commentator, David Williamson. Three decades after it was written, it still captures the ballsy spirit of the '80s and retains its skewering sharpness – a panoramic view of the city that's always prized beauty over brains.
A fast-moving, wisecracking commentary on contemporary urban mores and morals, and the rivalries and passions to be encountered on the road to success. Colin, a screenwriter, and his wife Kate, a publisher, move to the 'Emerald City', where fame and fortune are there for the taking, but surprises are in store for them both.
Sharp-edged, satirical and accusatory, Emerald City lays into the materialism of the 1980s with a razor wit. Within four months of its premiere, five separate productions had opened around Australia.
Credits
Playwright David Williamson
Director Lee Lewis
Cast Lucy Bell, Mitchell Butel, Jennifer Hagan, Kelly Paterniti, Ben Winspear and Gareth Yuen
Designer Ken Done
Costume Designer and Associate Set Designer Sophie Fletcher
Lighting Designer Luiz Pampolha
Composer Kelly Ryal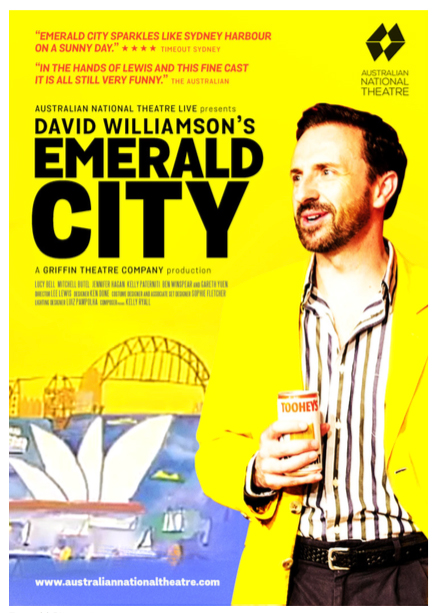 ★★★★
Emerald City sparkles like Sydney Harbour on a sunny day.
TIMEOUT SYDNEY
★★★★
Mitchell Butel is a gift to the role of Colin…
TIMEOUT SYDNEY
This play was first produced in 1987, with John Bell, Ruth Cracknell, Robyn Nevin and Max Cullen in the principal roles — a glittering cast doing a play about glittering but comically flawed people. Lewis's cast is just as good, a quarter of a century later.
THE AUSTRALIAN
Lewis's direction is clear and fast-paced …In commissioning as set designer that other quintessential recorder of Sydney, artist Ken Done, Lee Lewis had a moment of inspiration that translates into a striking and workable design.
STAGENOISE
It's Williamson at his sharpest and it's often deftly funny… his observations on Australia's cultural cringe and the tensions our artists face ring true.
DAILY REVIEW, CRIKEY
In the hands of Lewis and this fine cast it is all still… very funny.
THE AUSTRALIAN